—
OUR WORSHIP SERVICES ARE HELD ON SUNDAYS AT 9:30 AM
AND 3:00 PM AT 353 STONE CHURCH RD. E. IN HAMILTON.
—
LEARN MORE ABOUT CORNERSTONE FOR
Vacation Bible School
---
Looking for something for your kids to do this summer?
All kids from SK to Grade 6 are invited to join us at our food truck-themed Vacation Bible School from July 4 – 8.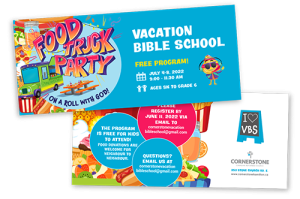 Have A Question?
WE'D BE HAPPY TO TRY TO ANSWER FOR YOU.
Upcoming Events

COMMUNITY BIBLE DISCOVERY
Tuesday mornings from 9:30 am – 11:00 am |  Childcare available
For more information contact: Marg DeJong (905-978-1160)

INTRODUCTION TO THE FAITH CLASS
Thursday evenings from 7:15 pm to 8:30 pm
For more information contact: Pastor John Louwerse (905-577-7177)